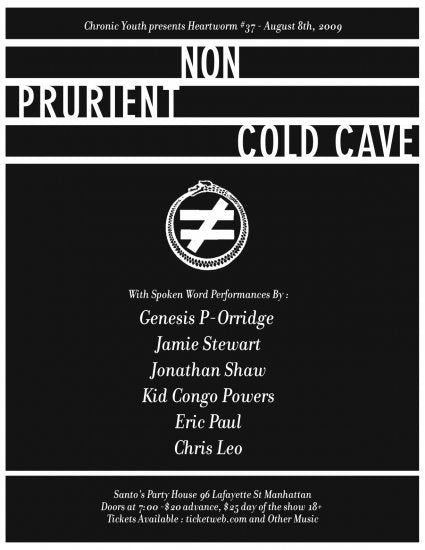 Heartworm #37
An Evening With
Release number
Heartworm #37
Publisher
Heartworm Press
Performance / Reading at Santos Party House featuring:

NON, Prurient, Cold Cave, Genesis P-Orridge, Jonathan Shaw, Jamie Stewart, Eric Paul, Chris Leo, Kid Congo Powers, and Howie Pyro.
"Chronic Youth presents Heartworm Press #37 at Santos Party House in New York City. Featuring the first live performance by NON in many years, and the negative hiss and out-of-body-bliss of supporters Prurient and Cold Cave. What makes this event unique enough to merit a Heartworm catalog number is the fact that all of these death-cheaters and dangerous thinkers will be (somewhat) contained under one roof for the first time. In between the three acts there will be spoken word performances by Genesis Breyer P-Orridge, Jamie Stewart (Xiu Xiu), Kid Congo Powers (The Cramps, Gun Club, Bad Seeds), Chris Leo (The Van Pelt, The Lapse), Eric Paul (Chinese Stars, Arab On Radar) and renowned tattoo artist and underground journalist legend Jonathan Shaw- A man who seeps old New York. and was wolf enough to run with the likes of Frank Zappa, Jim Morrison, the Manson Family and Charles Bukowski. This will be Shaw's first reading in New York City."
August 8, 2009.